Top Countries for Indian Students to Study MBBS Abroad
NMC Approved MBBS Colleges in Different Countries: The National Medical Commission (NMC) of India has approved MBBS colleges in many countries.
Are you aspiring to become a medical professional and considering studying MBBS abroad? Pursuing your medical education in a foreign country can offer a unique and enriching experience, as well as exposure to diverse medical practices and cultures. Here are some popular countries known for their quality medical education programs: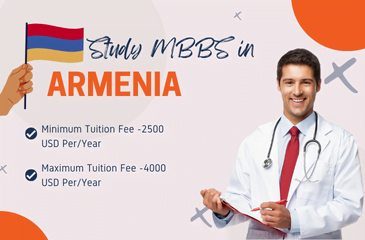 The average tuition fee for an MBBS degree in Armenia is around \$3,000 to \$5,000 per year.
The average tuition fee for an MBBS degree in Italy is around $5,000 per year.
Make sure that the medical school you are considering is accredited by a recognized accrediting body. This will ensure that the school meets the high standards of education required for a medical degree.
Check if the medical school is recognized or approved by the medical council in your home country. This approval is essential to ensure that your degree will be accepted and that you will be able to practice medicine in your home country after graduation.
In some cases, you might need to pass a licensing or certification examination in your home country after completing your studies abroad. Make sure to understand the requirements and prepare accordingly.
What are the benefits of studying MBBS abroad?