Study MBBS in Kazakhstan for Indian Students
Kazakhstan is a popular destination for Indian students who want to study MBBS abroad. The country has a long history of medical education and its universities offer high-quality education.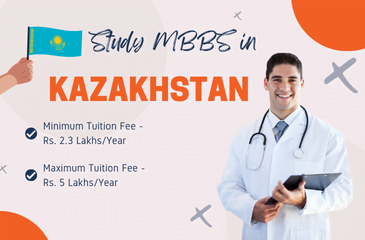 MBBS in Kazakhstan is one of the attractive opportunities for medical aspirants. Almost 10,000 students are selected for MBBS admissions in foreign countries every year. Most Indian students seek formal medical education to be a successful doctor. The duration of the MBBS course in Kazakhstan is six years. If you want a flourishing medical career, consider the best medical schools in Kazakhstan. Medical universities in Kazakhstan are globally recognized for their high standard of education. Medical Boards are hiring honest professors for all prestigious universities in Kazakhstan. Please note that all medical institutions in this country are recognized by USMLE, NMC, WHO, GMC and IMED. Kazakhstan, the heart of Central Asia, comes with various dimensions of medical courses for both national and international students.
Kazakhstan has several universities that offer MBBS programs recognized by international medical bodies like the World Health Organization (WHO), allowing graduates to practice medicine globally. 
Studying MBBS in Kazakhstan is often considered affordable compared to many other countries offering medical education. However, affordability can still vary based on factors like the university you choose. 
The recognition of an MBBS degree obtained in Kazakhstan is an important consideration for international students, as it determines whether you'll be able to practice medicine in your home country or in other countries.
Why Study MBBS in Kazakhstan for Indian Students?
Find out what attracts Indian students to choose kazakhstan  as a country to study MBBS course:
MBBS in Kazakhstan Fee Structure 2023-24
Disclaimer: Tuition fees and Hostel Fees of the medical universities mentioned in the table are subject to fluctuation. Contact Bright Future Abroad Studies for more details regarding tuition fees, hostel cost, and conversion of USD to INR.
Eligibility of MBBS in Kazakhstan for Indian Students
Eligibility criteria for MBBS in Kazakhstan  for Indian students show relaxation compared to MBBS in India:
Advantages of studying MBBS in Kazakhstan
Kazakhstan attracts many students from India and other countries abroad to study MBBS and there are several compelling reasons behind this choice. Students choose to study MBBS in Kazakhstan because:
Disadvantages of studying MBBS Kazakhstan
Even studying in Kazakhstan is a great option for Indian students, there are some minor disadvantages of choosing to study in Kazakhstan. However, these disadvantages can be easily overcome.
Is Kazakhstan safe for Indian medical students?
Yes, Kazakhstan  is one of the safest countries for Indian medical students:
Education Loan for Indian Students
Students can get education loan for studying MBBS abroad:
Note: At 'Bright Future Abroad Studies' our counselors will help you with every possible way of getting the education loan for MBBS abroad.
MBBS in Kazakhstan - Important FAQs