Study MBBS in Poland for Indian Students
Poland is a popular destination for Indian students who want to study MBBS abroad. The country has a long history of medical education and its universities offer high-quality education.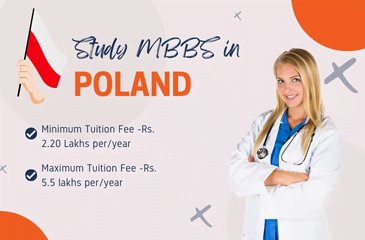 Studying MBBS in Poland is a great option for Indian students looking for a high-quality education at an affordable cost. Poland has a long and respected tradition of medical education, and its universities are consistently ranked among the best in Europe. In addition, the cost of living in Poland is much lower than in other Western European countries.The MBBS degree in Poland is a 6-year program, with 4 years of pre-clinical studies and 2 years of clinical studies. The language of instruction in most MBBS programs in Poland is Polish, but there are also a few English-taught programs available.
Poland has several universities that offer MBBS programs recognized by international medical bodies like the World Health Organization (WHO), allowing graduates to practice medicine globally. 
MBBS tuition fees in Poland are much lower than in many other countries, making it an affordable option for international students. The average tuition fees for MBBS in Poland is \$5,000 per year, which is much lower than the tuition fees in many other countries
MBBS degrees from medical universities in Poland are recognized by WHO and MCI This means that MBBS graduates from Poland are eligible to practice medicine in India and other countries around the world.
Why Study MBBS in Poland for Indian Students?
Find out what attracts Indian students to choose Poland as a country to study MBBS course:
MBBS in Poland Fee Structure 2023-24
| | | |
| --- | --- | --- |
| Name of the University | Tuition fees/year | Hostel fees/year |
| Collegium Medicum Jagiellonian University | 70750 PLN | 4320 PLN |
| Medical University of Lodz | 12800 EUR | 115 EUR |
| Warsaw Medical Academy | 15,100 EUR | 1015 EUR |
| University of Warmia and Mazury | 49000 PLN | 5220 PLN |
| Medical University of Bialystok | 48395 PLN | 7500 PLN |
| Medical University of Gdansk | 48000 PLN | 7080 PLN |
| Medical University of Silesia | 52000 PLN | 12120 PLN |
Disclaimer: Tuition fees and Hostel Fees of the medical universities mentioned in the table are subject to fluctuation. Contact Bright Future Abroad Studies for more details regarding tuition fees, hostel cost, and conversion of USD to INR.
Eligibility of MBBS in Poland for Indian Students
Eligibility criteria for MBBS in Poland  for Indian students show relaxation compared to MBBS in India:
Advantages of studying MBBS in Poland
Poland attracts many students from India and other countries abroad to study MBBS and there are several compelling reasons behind this choice. Students choose to study MBBS in Poland  because:
Disadvantages of studying MBBS Poland
Even studying in Poland  is a great option for Indian students, there are some minor disadvantages of choosing to study in Poland . However, these disadvantages can be easily overcome.
Is Poland safe for Indian medical students?
Yes, Poland is one of the safest countries for Indian medical students:
Education Loan for Indian Students
Students can get education loan for studying MBBS abroad:
Note: At 'Bright Future Abroad Studies' our counselors will help you with every possible way of getting the education loan for MBBS abroad.
MBBS in Poland - Important FAQs