Yes, admission is still open for MBBS abroad in some countries for the 2023-2024 academic year. However, the deadlines for applications are approaching quickly, so it is important to start the application process as soon as possible.
Here are some countries where admission still open for an MBBS abroad
Georgia
Kyrgyzstan
Kazakhstan
Russia
Uzbekistan
Moldova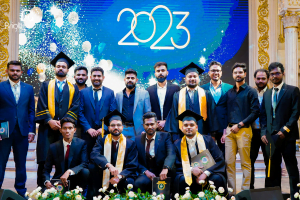 Also there is Winter intake in few countries. The application process for MBBS abroad can be complex and time-consuming so it is important to take a decision and start your process as soon as possible. Otherwise you will get a seat in winter Intake.
Is admission still open for MBBS abroad?
Yes, admission is still open for MBBS abroad in 2023-24. Some universities have early deadlines, but many still have open admissions for the upcoming academic year.
Here are some of the top countries where MBBS admissions are still open:
Russia
Ukraine
Kazakhstan
Philippines
Georgia
Armenia
Kyrgyzstan
Bangladesh
Nepal
China
To apply for MBBS abroad, you will need to meet the following eligibility criteria:
Minimum age of 17 years on or before 31st December of the year of admission
Minimum 50% marks in Physics, Chemistry, and Biology in 12th grade (45% for SC/ST/OBC students)
A valid NEET scorecard
Once you have met the eligibility criteria, you can start applying to universities. The application process will vary depending on the university, but it will typically involve submitting the following documents:
Completed application form
NEET scorecard
12th grade mark sheet
Passport-size photographs
Medical fitness certificate
No Objection Certificate (NOC) from your current school or college
If you are applying to a university in a non-English speaking country, you may also need to submit an English proficiency test scorecard such as IELTS or TOEFL.
Once you have submitted your application, you will need to wait for the university to process it. If you are accepted, you will receive an offer letter. You will then need to apply for a student visa and make travel arrangements.