Orel State University Russia
A century-old institution that educates healthcare professionals, advances science and fosters development.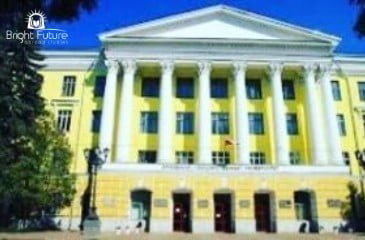 Orel State University (OSU) is a public university located in Orel, Russia. It was founded in 1919 and is one of the oldest and most prestigious universities in the country. OSU offers a wide range of undergraduate and graduate programs in a variety of fields, including medicine, engineering, humanities, and social sciences.
OSU is known for its strong academic reputation and its commitment to research. The university has a number of research institutes and centers, and its faculty members are actively involved in research in a variety of fields. OSU also has a strong track record of international collaboration.
OSU is known for its strong academic reputation and its commitment to research
Tuition fees are relatively affordable for international students
Friendly and welcoming environment for international students
Why should you choose Orel State University?
Every student first thinks why choose this university? Students, there are many interesting facts and figures. Some amazing things are mentioned below. Students can check it below.
Fee Structure of Orel State University
Medical aspirants are attracted to study MBBS in Russia at Orel State University:
| | | | | | | |
| --- | --- | --- | --- | --- | --- | --- |
| | 1st year | 2nd year | 3rd year | 4th year | 5th year | 6th year |
| Tuition fee | $3300 | $3300 | $3300 | $3300 | $3300 | $3300 |
| Hostel fee | $200 | $200 | $200 | $200 | $200 | $200 |
Note: 1 RUB = Rs. 1.45 (approx)
Orel State University Eligibility Criteria
For admission to university students need to meet the Orel State University eligibility criteria. Interested students who want to study MBBS at Orel State University meet themselves. Indian students are as also follows.
Hostel Facilities Orel State University
Orel State University has 8 hostels on campus that can accommodate over 5,000 students. The hostels are clean and well-maintained, and they offer a variety of amenities, including single and double rooms, shared kitchens, laundry facilities, study rooms, and common areas. The hostels are also close to the university campus, making it easy for students to get to class and other facilities. Overall, the hostel facilities at Orel State University are clean, well-maintained, and offer a variety of amenities for students.
Student life Orel State University
The university has a number of student clubs and organizations that students can join, including sports teams, cultural groups, and academic societies. OSU also hosts a number of social events throughout the year, such as concerts, festivals, and sporting events.
OSU students come from all over Russia and the world. This diversity creates a rich and stimulating environment for learning and living. Students at OSU are passionate about their studies and about making a difference in the world. They are also involved in a variety of extracurricular activities, which helps them to develop their skills and interests.
Orel State University l University Ranking 2023
Orel State University is a top-class institute with the excellent world and country ranking: UniRank
Placement at Orel State University
Education Loan for Indian Students
Students can get education loan for studying MBBS abroad:
Note: At 'Bright Future Abroad Studies' our counselors will help you with every possible way of getting the education loan for MBBS abroad.
Orel State University FAQs
Orel State University (OSU), or Oryol State University, is a prominent higher education institution located in Oryol, Russia. Established in 1931, it has a long history of providing quality education and conducting research in various academic fields.
To apply for admission to OSU, visit the official university website or contact the admissions department for detailed information on the application process, admission requirements, and deadlines. The specific requirements may vary depending on the program and level of study.
Orel State University offers a wide range of undergraduate, graduate, and postgraduate programs in various fields, including Natural Sciences, Humanities, Engineering, Medicine, Social Sciences, and more. OSU grants Bachelor's, Master's, and Ph.D. degrees.
The language of instruction at OSU is primarily Russian. However, there may be some programs offered in English, especially for international students. It's essential to check the language requirements for the specific program you are interested in.
Admission requirements for international students may include academic transcripts, a copy of your passport, a medical certificate, and proof of Russian language proficiency (if applicable). Specific requirements can differ by program, so it's advisable to refer to the university's official website or contact the admission department for precise details.
OSU may offer scholarships and financial aid to international students, but the availability and eligibility criteria can change from year to year. Prospective students should regularly check the official website or contact the university for the latest information on scholarships and financial assistance opportunities.